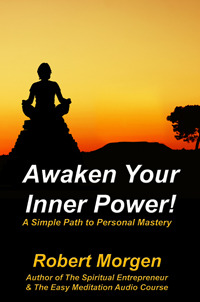 Think of the human body as a piece of electrical cable. Our body has a measurable field of bio-electrical energy that flows through us. This energy is in us and everything that we see, feel experience or imagine. Various cultures have different names for this energy and for the sake of this book I'm just going to use the word energy.
There is a difference, however, between energy and Power. You can be extremely energetic and go, go, go all the time and still not really get anything done. Hence my definition of Power is 'the ability to use what you have to accomplish your goals'. Inner Power is the combination of your basic energy, and what you can do with that energy to accomplish your goals in life. The more energy you can generate, the more energy you have to focus on your goals.
At the same time it's not all about having more energy, but rather about using the energy you have more effectively. In order to use your energy most effectively you have to reduce the amount of resistance that you have to overcome. When we look at a piece of electrical cable we find that it has a rating that allows electricians to know how much energy it can carry and how much resistance is on the cable. What this means is that it takes a certain amount of energy to fill up the cable and then the rest of the energy that's sent in to the cable can flow on to its destination.
When we look at our body we can see a lot of ways that we add resistance to our energy. The food we eat, the environmental toxins we come in contact with and especially our emotions can all add resistance to our energy leaving us drained and powerless. There are many ways to increase and make full use of your Inner Power and the methods and tools in this book are by no means the only way. Generally I've used what I've learned from studying the Eastern methodologies primarily because those methodologies survived the religious persecution suffered be Western energy workers over the last couple of thousand years. I've tried as much as possible to reduce or replace the Eastern terminology, but in some cases there is simply no good Western counterpart.
Take your time with the concepts and exercises that follow. I've laid them out in a progression that would have helped me greatly in my own studies in the hopes that it can trim some years or trials off your journey.
Have a blessed day,
Robert Morgen
3 Pillars Consulting – http://spiritualentrepreneur.biz/consulting/
http://SpiritualEntrepreneur.biz/